When choosing a supplement, we often base our choice on advertising or the price of the product. Middle-aged people seeking support in their everyday life by eliminating the symptoms of fatigue using some concrete product - this is usually what TV commercials look like suggesting the product which we should choose. While many of these ads encourage you to buy, you should still keep your head cool. The on-screen suggestion most often refers to the product as the cheapest, the best, the most bioavailable, the revolution in the industry and many, many (often empty) words. However, hardly any producer or advertisement shows what every consumer should care about - the quality and confirmation of product composition.
Today we will present the result of tests regarding one of the latest MZ-Store brand supplements - ZMB6.
ZMB6 - what is that?
To meet needs of people living the intensive lifestyle, we have created a product that helps prevent basic deficiencies.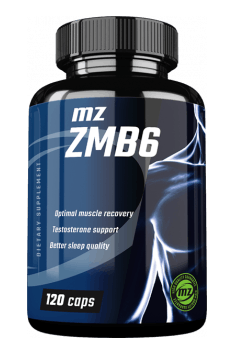 in our body: magnesium, zinc and vitamin B6. Such a combination is often called "ZMA".
With ZMB6 supplementation, we support:
proper energy metabolism.
the condition of our skin, hair and nails.
optimal muscle work.
hormonal balance.
post-workout regeneration.
work on your brain and nervous system.
It is a combination of zinc, magnesium and vitamin B6. This combination is a natural solution to highly improve protection of the body against diseases, various injuries, excessive physical exertion, and even anorexia.
For training adepts, ZMA is important to optimize muscle and nervous system work.
More about the synergy of zinc, magnesium and vitamin B6.
To prove credibility and recognition of our brand's products, we periodically test product batches to confirm compliance of the composition and correctness of the content of the supplement. Therefore, at the end of May, we delivered our product to the certified laboratory to let it perform compliance tests. We are presenting report of this analysis below.
ZMB6 - results of the composition analysis.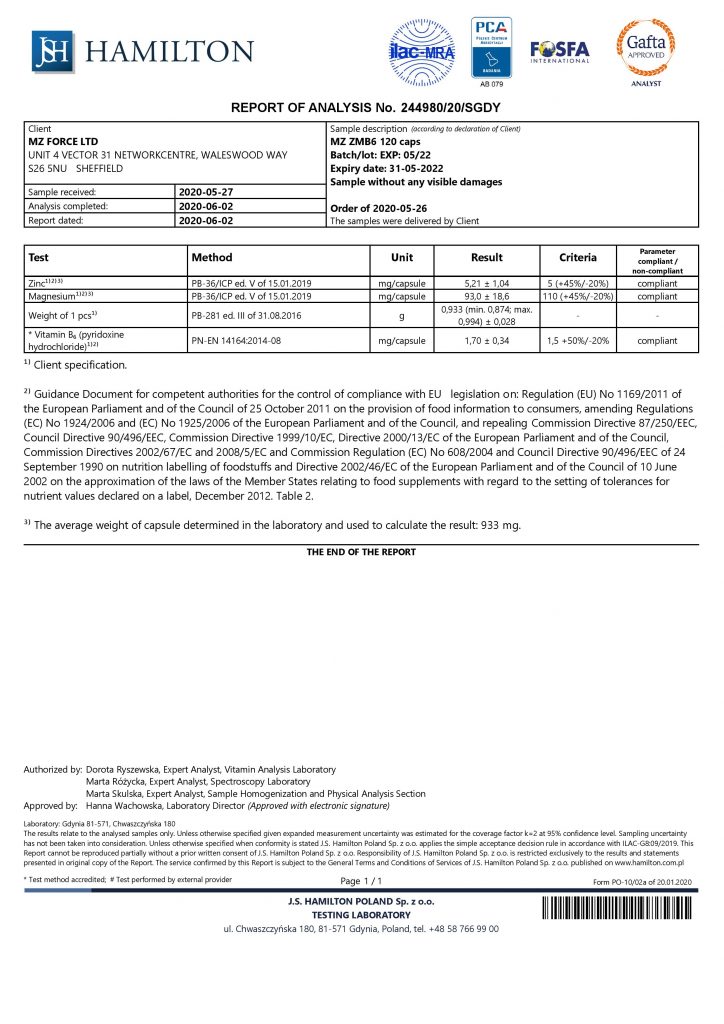 All 3 parameters of substances are in the accordance with the criteria adopted for assessing the quality of supplements. Thanks to that we have the absolute assurance of the composition quality and the correct amount of active substances in the capsules. ZMB6 contains an optimally composed amount of magnesium, zinc and vitamin B6, so adding it to the supplementation will be a good way to improve state of your whole body.
Check our other supplements review!
Tags: magnesium, supplements review, vitamin b6, zinc, zmb6