Self-made flavoured water is a universal drink that quenches thirst, let us feel refreshed and hydrates the body. It is believed that for optimal hydration from the inside, we should drink about two litres of water per day. Flavoured water is not only delicious but also very healthy. It is a great alternative to drinks available in stores that contain huge amounts of sugar and preservatives. Homemade flavoured water tastes best when served in tall glasses accompanied by fresh fruits or vegetables. Do you want to know how to prepare delicious and healthy flavoured water by yourself? Here are our suggestions. Check what water to drink this spring!
Citrus flavoured water
Perfect for hot weather, refreshing and delicious. For its preparation, use non-carbonated (or slightly carbonated) mineral water, freshly squeezed orange and lemon juice, and fresh mint, which will give the drink exceptional freshness. Mix the squeezed citrus juice with water, adding fresh mint leaves. Optionally, you can add a few ice cubes to the drink. Fresh lemon and orange slices will be a great decoration. However, before you cut the fruit, remember to wash it thoroughly. It is the skin that has the most harmful substances that should be thoroughly removed.
Delicious and healthy water with the addition of ginger, honey and lemon
Perfect for colder days. Perfectly warms, helps prevent colds and effectively supports the treatment of existing ones. To make a ginger drink, prepare finely chopped fresh ginger, lemon juice (or a few slices of fruit), 2 teaspoons of honey and very warm (but not hot water). Mix all ingredients and leave for a few minutes so that the flavours and aromas can mix together. Such a drink (of course cooled down), drunk immediately after waking up has a beneficial effect on the body. If possible, drink a glass of this wonderful mixture every morning.
Pineapple flavoured water
Preparing pineapple flavoured water can also be a great idea. Delicious, with a hint of an exotic taste, will make a real sensation during parties and social gatherings. For the preparation of this water, you will need fresh pineapple juice and still mineral water. Such a drink will have a very delicate, sweet aftertaste. Finely chopped pineapple pieces and fresh mint leaves will be a great addition to the water. If you love other fruits (strawberries, melons, apples or peaches), you can easily replace pineapple. Thanks to this you will get refreshing water in your favourite taste. You can also use frozen fruits to prepare the drink.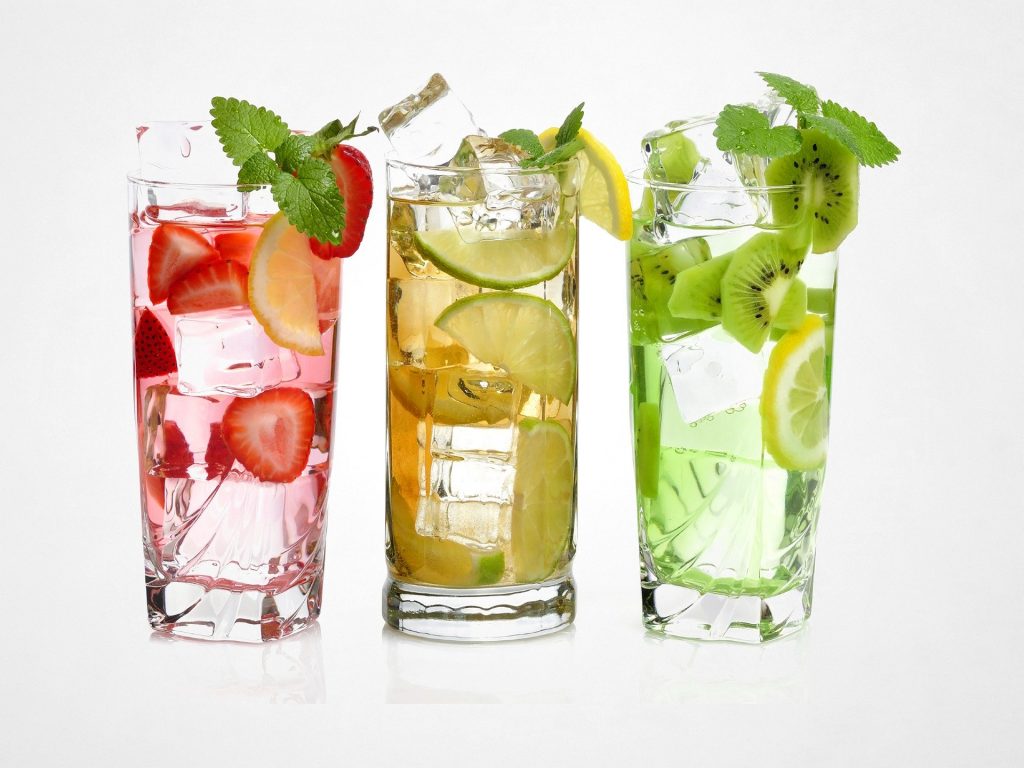 Lemon flavoured water
Quite an unusual, but extremely delicious home-made flavoured water, you can also make non-carbonated mineral water with lemon juice, a little honey, ginger and cucumber juice. The drink should also be enriched with grated pieces of this vegetable. Greatly hydrates the body, quenches thirst and refreshes. I must admit that the taste of such water stays in our memory for a long time. The drink will be perfect especially on hot summer days.
Tags: flavoured water, mineral water, water