BPC-157 (Body Protective Compound - 157) is a synthetic mix of peptides. The use of BPC 157 results in a strong regenerative effect for those who choose to use it. As with all polypeptides, BPC 157 consists of a chain of amino acids. In this particular case, the peptide chain consists of 15 amino acids. It is a synthetic peptide because it does not occur naturally in the body and it cannot be synthesized internally by our organism.
Origin of BPC-157
The injection composition mainly comes from a mix of proteins found in the human stomach. This peptide reduces pain in damaged areas of our body. Everyone who suffers from discomfort due to muscle damages may benefit from this substance. It can also help skin burns to heal faster and increase blood flow to damaged tissues. It is also used as support in the treatment of stomach ulcers, fistulas, skeleton system disorders, and inflammation. This amazing mix of peptides can benefit not only people with internal and external damage but it also can act as a nootropic brain booster and improve memory and cognition in the long run. So who will benefit the most from BPC 157 use? How should it be used? Is this synthetic peptide a dream come true for bodybuilders about a substance that supports the regeneration and healing of heavily overtrained muscles? In the article below you will find the answers to all these questions!
The recommended dosage of BPC-157
BPC-157 can be taken orally or injected subcutaneously. The most beneficial way to use BPC 157 is by injections of this substance. Capsule form is best for stomach and intestinal problems. Therefore, depending on the desired benefits, when using BPC 157, you should determine which form of administration is the best for you.
Regenerative properties of BPC-157 have been found to persist for up to 24 hours after injection. Of course, the actual dosage will vary for each person, depending on the goals of supplementation. The substance should be administered one to three times a day. The injection should be carried out on an empty stomach. Subsequent doses should be given at least after 3 hours if you choose to inject more than one dose daily. It's best to take BPC 157 shortly before your main meals of the day. Taking it in the morning will let you feel the effects right away! Dosage range from 200 mcg to 1000 mcg per day depending on the recommended protocol and medical conditions. Consult a physician or healthcare professional to ensure appropriate BPC 157 cycle protocol.
Possible side effects and interactions of BPC-157 with drugs
Many studies regarding BPC-157 have been conducted in rodent species; no side effects were reported in these cases. It is important to contact your personal physician before the use. It will allow you to determine if you are safe to take BPC 157 every day and that there is no risk of interaction with other medications.
Users of BPC 157 should be aware that some people may experience headache, nausea, dizziness and hormonal imbalance. In the place of injection redness or physical discomfort can also be sustained. If this happens, it is usually mild and the pain/discomfort should not last longer than a few hours after the injection. However, if this condition persists, you should seek medical attention or talk to your doctor about this problem to determine its cause.
People who take other medications or prescriptions, and those who take several other supplements, or use other peptides or steroids, should also understand how BPC 157 can interact with them. In addition, if you suffer from allergic reactions or you are sensitive to certain medications you should discuss this issue with your physician prior to use of BPC-157.
Most important advantages of using BPC-157
Of course, people interested in using BPC 157 want to do it for good reason. For some, this is an increase in muscle mass, acceleration of the regeneration process and improvement of overall sports performance. Others want to lose weight and reduce body fat. Including BPC 157 in daily supplementation has many benefits.
Benefits of using BPC-157
Improving memory, cognitive functions and general brain function
Protection against damage caused by drugs and alcohol
May have the effect of reducing body fat and accelerate the reduction of excessive weight
Reverses opioid tolerance
Accelerates the regeneration of the body (muscles, tissues, etc.)
In addition, it can help treat some allergies and viral infections. It is also known that BPC 157 helps to reduce the level of inflammation in people suffering from arthritis or other inflammation of the body. It can also help with urinary tract infections.
General improvement in body composition also occurs in some people reaching for BPC 157. Of course, the effects and benefits will be different for each user. The dosage, frequency and dosage cycle in which you take BPC 157 will affect the final results. And if you use it with other peptide mixes or with HGH, you'll also notice that the effects may be larger and the results may be visible in a shorter time than those taking BPC 157 solo.
Main applications for BPC-157
BPC-157 and the digestive system
The most well-known benefit or, in other words, "application" for BPC-157 is that it helps in the treatment of certain stomach diseases and disorders. Has a beneficial effect in the treatment of ulcers and gastrointestinal problems. But these are not the only applications. Many people rely on it for cognitive effects and its ability to improve memory loss and brain function. Those who have cognitive impairment or age will find that this injection can help them with symptoms of memory loss.
BPC-157 for athletes
For athletes, BPC 157 is a great option to help increase muscle mass and help treat injuries. However, the peptide alone will not increase muscle mass. It will help reduce the time it takes to regenerate muscles, bones, tissues and joints. Basically, it will help reduce the time needed between workouts and can help people gain more muscle mass in less time than without using BPC-157.
BPC-157 impact on overall health
Many athletes use BPC-157 to improve overall health. This substance has a positive effect on mobility, can help reduce inflammation levels and can improve overall health.
Of course, taking it with other drugs and following a balanced diet and regular exercise will further increase the benefits of BPC-157. This also applies to people who use options such as IGF-1 or other peptide mixes.
Is BPC-157 legal?
BPC 157 is not listed as an illegal association by sports authorities. That's why athletes can use BPC-157 without having to worry about being disqualified from the competition. USADA and WADA did not prohibit the use of BPC 157.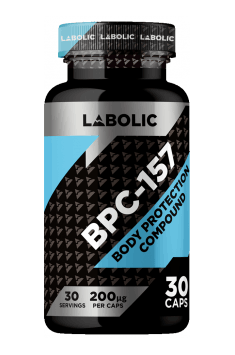 Should BPC-157 be stored in the fridge?
Like other injectable peptide mixes, BPC 157 must be mixed for injection. Therefore, keep it in the fridge to make sure you can use it as intended. BPC cooling will also help extend its shelf life. An alternative on the market is "stable" BPC in the form of oral capsules and they do not need to be cooled. Just store them in a dry, cool place.
How long do you have to wait for the effects of using BPC 157?
The benefits of using BPC-157 can be felt relatively quickly. Most people will notice results 2-3 weeks after starting using it. The dosing cycle usually lasts from 6 to 12 weeks, which means that users will experience excellent results. Especially those who use higher doses will feel accelerated muscle building, improved overall health and fitness.
Is BPC-157 right for you?
Like most other injections, mixes of peptides and growth hormones, it's best to test different products to find what's best for you. There are many benefits that BPC-157 promotes for its users. However, what works for one person is not necessarily the best option for someone else. So, like other products, it's best to go through the entire dosage cycle before you decide if BPC 157 is right for you or not.
There are no undesirable side effects or serious health risks associated with the use of BPC 157. In addition, many of the benefits that it guarantees are hard documented by users, and there are more and more clinical tests on humans, indicating the high potential for this agent. Whether you want to build muscle, reduce fat or improve memory - BPC can be very helpful - but remember that this product is used at your own risk and you should be aware of the risk of side effects.
Which BPC-157 to buy?
There are many products on the market, most of them are injection products. A novelty on the market is a stable peptide in the form of capsules. The Labolic brand has released such a product, and here you can find independent research on the composition of this product - the Labolic BPC-157 review.
Tags: bpc, bpc 157