Eurycoma Longiforia Jack is a herb known more under the name of Tongkat Ali or Malaysian ginseng. It's a medicinal plant from Malaysia and Thailand, used mainly as an aphrodisiac and as a tonic. Usually, an aqueous extract of this plant is used as herbal medicine and is traditionally consumed as an additive to coffee. You can read the reports on the supplement on improving sports performance, libido, muscle strength, weight loss - most of the phenomena associated with the increase in testosterone levels.
The standard dosage of eurycoma longiforia jack varies from 200-300mg of 100:1 extract, which gives us an effective 20-30g of dry root. We take this dose 1-2 daily. There are no convincing reasons for the optimal dosing of this substance. Longjack seems to be an effective pill for erections, and a complete lack of correlation with adrenergic effects and stress reduction seems to be an interesting supplement to combine with yohimbine (which just stimulates these effects). The mechanism of this action is not fully understood.
An interesting property may be the increase of spermatogenesis by increasing spermatogenesis cells in correlation with estradiol. This does not apply to sperm motility, which seems to be supported by other mechanisms; Sperm volume was not studied.
Tongkat ali extract improves sperm parameters; It has no effect on testosterone levels
The study: 109 healthy men (aged 30-55 years) received 300 mg of tongkat ali extract daily for 12 weeks. At the end of the study, quantitative sperm analysis was performed. The male reproductive organs have been evaluated on the basis of the international erection index and sexual health questionnaires.
Result of the study
At the end of the 12 weeks of supplementation, individuals showed a significant improvement in sexual performance, increased sperm motility (reaching 44%) and increased sperm volume. Testosterone levels did not increase significantly.
Conclusions of study
Tongkat ali extract improves sexual function in men, but has no effect on testosterone levels.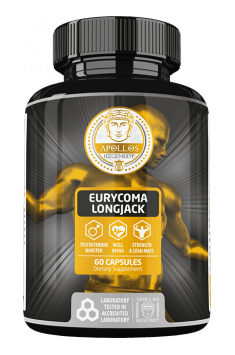 Source of study
https://www.hindawi.com/journals/ecam/2012/429268/
In essence, Eurycoma Longjack can be found in supplement stores as a testosterone booster. Currently, the proven mechanism by which Malaysian ginseng increases testosterone levels is associated with the content of the eurypeptide. We can find indications that support the thesis of increasing the CYP17 enzyme activity (17 alpha-hyroxylase / 17, 20lase), which increases the conversion of pregnenolone precursors to dehydroepiandrostendione and subsequent androgens. Such statements can be found in the dissertation of AlI Saad (1993). Unfortunately, it is not available online.
Malaysian ginseng increases LBM growth and increases strength.
The only interesting study done on humans was to run an experiment on a group of 14 healthy, trained men for 5 weeks doing intensive training at 60% of 1RM (10 stations, 2 sets of 10 repetitions, a minute break between sets, every other day). Half of the subjects take 100mg per day of extract from *ELJ, the rest takes placebo. The intensity was increased by 10% for each week. An increase in LBM from 7.18kg to 7.43kg was reported. Weight increased on 1RM by 17kg. There was a 4% increase in the parameters in the group that supplemented longjack compared to the placebo group.
Source of study
http://cdn.shopify.com/s/files/1/0048/3382/files/ELJ_BJSM.pdf?2399
Tongkat ali root extract increases testosterone and controls stress hormones
Study: A clinical trial was conducted in four weeks on 63 human subjects (both male and female) under moderate stress to assess the effect of eurycoma longiforium root hydroxide on the hormonal profile. All patients received 200 mg of the extract daily for four weeks, and levels of hormones like testosterone and cortisol were quantified before and after the study. Researchers estimated that the concentration of testosterone and cortisol in saliva is low. In addition, all subjects responded to the questionnaire regarding general mood, fatigue and anxiety.
Result of the study
The level of testosterone in saliva was improved in all subjects, while the level of 'stress hormone' cortisol decreased.
Conclusions of study
Tongkat ali extract increases testosterone levels.
Tags: eurycoma longiforia, eurycoma longjack, testosterone, testosterone boosters