Today, GTx announced that they have completed the second phase of ostarine research, which is a highest quality selective androgen receptor modulator. Its effectiveness has been confirmed with the results of 120 tested people - 60 elderly men and 60 postmenopausal women. The subjected group did not have a fixed diet or training plan drawn up. All patients who administered ostarine had higher lean body mass average, of approximately 1.3 kg compared to the starting point and up to 1.4 kg, taking the control group that had placebo administered into account.
In another test, which was to take into account the power and performance of the training subjects that were administered ostarine, fared much better. In a test conducted on the functional climbing stairs patients taking ostarine achieved an average of 15% better time and showed up to 25% more strength than those who were taking a placebo.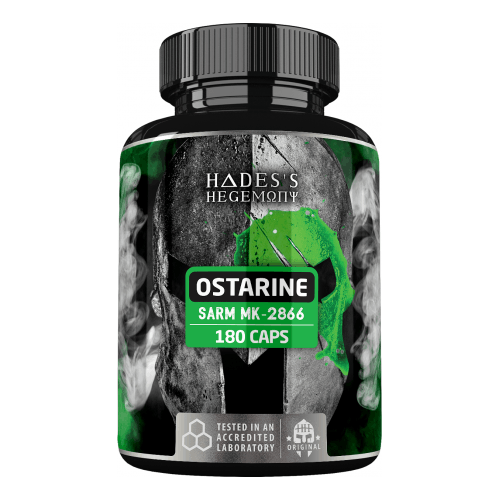 Statistically, significant change was also observed in terms of work. Comparing the groups receiving 1 mg and 3 mg of ostarine substance. Patients receiving 1 mg noted a decrease in body fat, but not enough that it can be regarded as evidence of its effectiveness. What else if not 3mg! Here, the results are really impressive. When compared to the placebo users, people who were taking 3mg of ostarine, lost approx. 0.6 kilograms of adipose tissue. In men, fat disappeared mainly from the waist area, while women - from hips and legs.
In reference to the studies mentioned above,it was proven that ostarine does not have a significant impact on bone mineral density, and the bone markers turnover results were inconclusive.
In preclinical models in vivo and in vitro, ostarine showed both anabolic and antiresorptive activity, but to be able to take a specific position in the context of its impact on bones, there is a need for further in-depth analysis.
No serious side effects associated with the use ostarine were reported.
At the end of three-month experiment, none of the subjects had elevated liver test results. One of the participants was forced to stop taking ostarine earlier due to irregularities in the liverprotocol. After stopping the substance,the enzymes quickly returned to normal.
Ostarine had a positive impact on the decline in cholesterol, both HDL and LDL. The subjects were classified into low risk of cardiovascular disease.
Ostarine treatment doesn't have any apparent effects on serum PSA (prostate), sebum production (skin and hair) or LH (pituitary).
"The use of anabolic agents has been limited due to the fear of unwanted androgenic steroid side effects," said Mitchell S. Steiner, MD, CEO of GTX. "Ostarine guarantees us safety, selectivity, efficacy confirmed with tests and oral pharmaceutical form. This makes it a worthy replacement for the classic anabolic agents and testosterone analogies. It opens the door to its potential use for both women and men, in the case of many diseases, including destruction of cancer, end-stage renal disease, muscle atrophy, weakness and osteoporosis.
GTx recently conducted discussions with various branches of United States Food & Drug Administration for the determination of the necessary regulatory requirements during the ongoing clinical trials ostarine. Through greater transparency on recommended paths and research standards, GTx decided on an in-depth analysis of the impact ostarine on the destruction caused by malignancy. The study was initiated in 2007.
Cachexia, or simply muscle atrophy, is a serious complication associated with many cancer types. Selectively muscle wasting, fatigue, and deteriorating quality of life adversely affect the body's response to treatment and the chance of survival at all. Cancer cachexia is identified as one of the two most common, and most catastrophic, problems associated with advanced cancer. It is estimated that about 30% of the 1.3 million diagnosed in the United States patients suffering from cachexia. The drug gives the opportunity to increase lean body mass and improve functional performance would solve a lot of problems in this regard.
GTx also has to assess action ostarine for the treatment of chronic diseases, with particular emphasis on end-stage renal failure, muscle atrophy, bone fragility and osteoporosis.
GTx has bought full rights to develop and commercialize andarine and all its derivatives, which were previously licensed to Ortho Biotech Products, LP, the company Johnson & Johnson (Ortho Biotech), within the framework of Cooperation and License Agreement concluded between the GTX and Ortho Biotech in March 2004, which was terminated by mutual consent of all parties. GTx now has full ownership and control of the SARM.
"By having exclusive rights to andarine,GTx may now freely pursue their studies on the use ostarine in the treatment of cancer cachexia without fear, thatandarine mightsuddenly become competitive." says Dr Steiner. "With the positive results of the analysis of the action ostarine and full rights to all of our SARM, we are able to increase the maximum value of the SARM through their continuous improvement and potential partnerships"
GTx, headquartered in Memphis, Tennessee, is a biopharmaceutical company that dedicates primarily the discovery, development and commercialization of therapeutic substances for the treatment of cancer and serious conditions related to men's health.
The main development programs conducted by GTx are focused on specific molecules that selectively modulate the effects of oestrogens and androgens.
GTx is developing ACAPODENE (toremifene citrate), a selective oestrogen receptor modulator, in short, in two separate clinical programs related to men's health:
- Firstly, the key relates to the treatment of serious side effects of androgen deprivation for advanced cancers of the prostate,
- A second program will focus on preventing prostate cancer in men at increased risk
GTx has exclusive license rights to develop and commercialize ACAPODENE throughout Europe.
This article contains information based largely on GTx'spredictions. More detailed information regarding future clinical trials and potential uses for ostarine will be known in the near future.
Tags: muscle, muscle mass building, ostarine, supplements