Multiple Sclerosis (MS) is a chronic inflammatory-demyelinating disease of the central nervous system. Currently, MS is considered an autoimmune disease. It consists in the breakdown of axons and damage (demyelination) of myelin sheaths of neurons, oligodendrocytes and microglia cells by the host's immune system. This causes serious disturbances in the transmission of nerve impulses in the brain and spinal cord.
Most often, MS affects young people, usually 20-30 years old, being one of the most common causes of disability. Unfortunately, no effective drug for this disease has yet been discovered.
In the light of the latest research on MS therapy, high hopes are associated with biotin MD1003 as a potential therapist.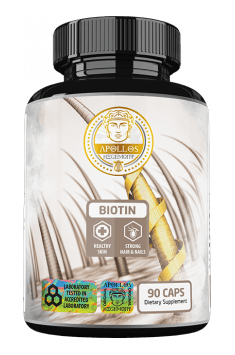 MD1003 is a patented, high-dose (100 mg) form of biotin with pharmaceutical purity (hdPB). It was developed for patients suffering from the progressive form of multiple sclerosis. The results from the third phase of clinical trials were published in The Journal of Multiple Sclerosis, and the biotin MD1003 was submitted for registration to the European Medicines Agency (EMA).
A randomized, double-blind, placebo-controlled study was conducted. The aim of the study was to assess the safety and efficacy of MD1003 in 154 patients with progressive MS, in the range of 4.5-7 points on the EDSS scale (Extended Scale of Disability, where 0 means normal neurological status, and 10 - death). During the first 12 months, part of the subjects received a dose of MD1003 three times a day (100 mg of biotin) and the other part received placebo.. The endpoint of the study was the percentage of patients with the reversal of disability symptoms at 9 months, confirmed in the 12th month of the study.
The results of the study confirmed the effectiveness of MD1003. About 13% of patients in the experimental group have reached the end point, which means that they have reversed their progressive disability. There was also a reduction in EDSS scores in the experimental group and no change in the control sample (placebo). The results were repeatable. MD1003 was well tolerated by patients, which is proof of the favorable safety profile of this substance.
The effectiveness of biotin MD1003 results from its unique, dual mechanism of action related to the protection of myelin sheaths. First of all, biotin is a co-factor of acetyl-CoA carboxylase, which participates in the synthesis of fatty acids necessary for optimal myelin repair processes. Second, by increasing the efficiency of ATP synthesis in the Krebs cycle, biotin MD1003 protects against axonal degeneration.