Onions are often underestimated and disliked especially by children due to acids, which after separation cause unpleasant tearing and pain of eyes. However, this reason should not discredit this vitamin-rich vegetable, which is a natural source of vitamins A, B1, B2, C and PP.
Onion in folk medicine
The whole value of the onion can be captured using a short sentence by Mayor Drohobycz Mykola Huka
"Society has persevered with onions, and a monument to them is our due. For centuries, onions have been a highly valued vegetable that has been effective in fighting the cold and strengthening the natural resistance barrier'.
In folk medicine, onions were very often used as a natural remedy for various ailments related to pressure, urination and dermatitis. An additional advantage of onion is undoubtedly the fact that it is widely available, popular and cheap. This vegetable is an invaluable source of vitamins and should find its permanent place in our daily menu.
Benefits of onions

it contains bactericide substances, exerted both by phytoncides, released when cutting or crushing onions and by non-volatile compounds in the pulp of it
stimulates urinary excretion
removes excess water from the body - so it is recommended for people suffering from various diseases like rheumatism, arthritis, swelling, urinary disorders, protein in the urine, uremia
gently reduces blood pressure
strengthens the body
has a positive effect on dermatitis, helping to heal and cleanse wounds
it relieves burning after biting of insects such as mosquitoes, bees and wasps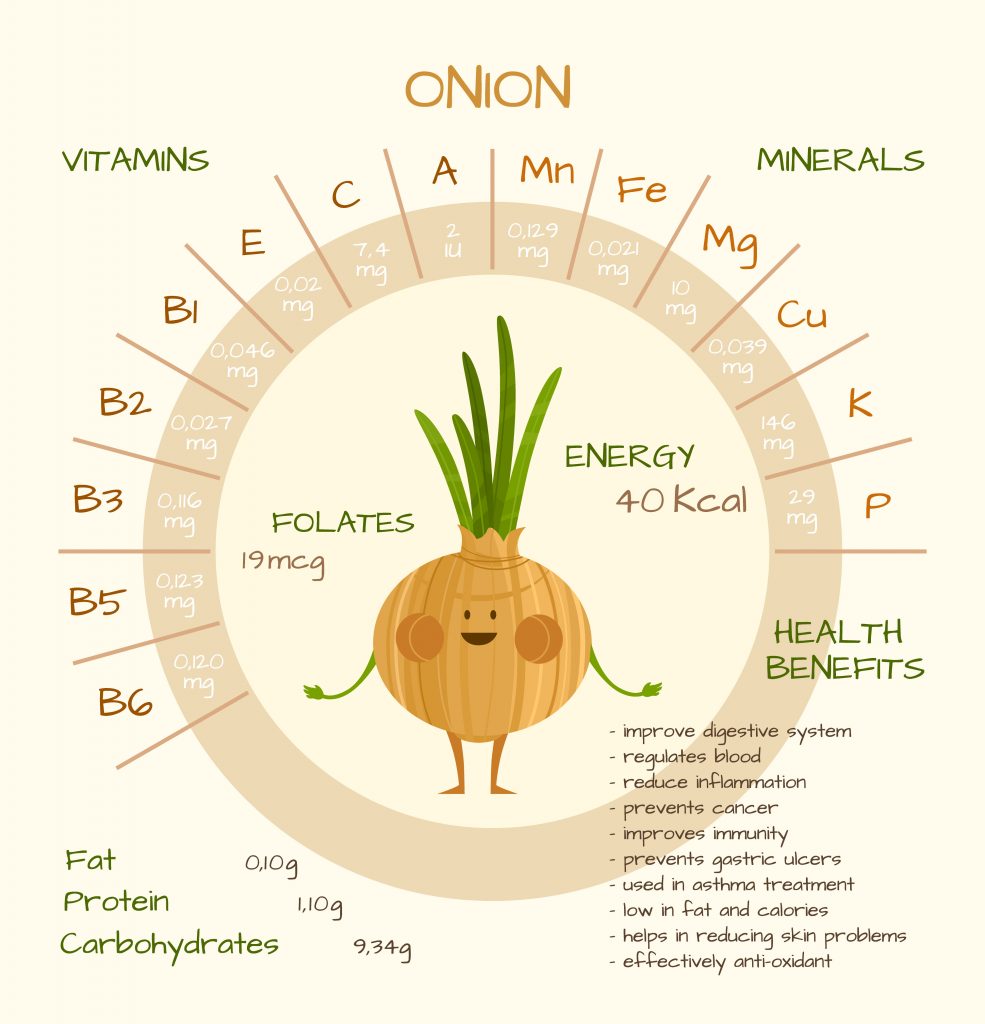 Onions in support of cholesterol levels and proper blood circulation
According to American researchers, eating one raw onion every day for at least two months increases good cholesterol level - HLD - and decreases bad cholesterol level - LDL.
And now the most important message for all those suffering from atherosclerosis or other blood circulation problems. Onion is a unique vegetable in the world. It contains a natural substance that prevents blood clots. And what is the most wonderful thing? That it not only prevents veins from clogged. If we already have clots in our veins, with frequent eating of onions, these clots dissolve over time, completely releasing venous tension.
It is not easy to deprive an onion of its health properties
Also, valuable information is the fact that it is not easy to deprive an onion of its health properties during processing. Onions in almost no form lose their medicinal value, except for one thing - frying in lard without a lid. However, fried in oil, under the lid or seasoned and strangled to a golden colour - it is still highly beneficial for our health. Onions cooked in a soup are also full of healthy properties. Therefore, after cooking the dish you don't have to throw away the onion. We suggest you to rather eat it. In its raw form, it has the best effect on varicose veins, on blood circulation balance.
Onions in almost no form lose their medicinal value
It can be added to almost any dish and tastes great as an addition to a salad, soup, lunch and bread. So let's not underestimate the beneficial qualities of onion and appreciate it every day by including it in your diet plan!
Onions for hair care
Onion extract can also be used to prepare hair care products. The sulfur contained in it, which comes from the volatile oil of the onion, reduces the effect of greasy hair.
Tags: allicine, garlic, onion, phytoncides