The modern world has permanently got rid of taboos and issues which consideration may cause fear, anxiety or disgust. More and more often we are beginning to openly talk about what touches us, what we suffer from, what hurts us and what, as you can see, does not concern only us. PCOS is a disorder of the 21st century, which results from many dependencies related to technology development, environmental pollution, lifestyle, diet, stress, multiplicity of roles and everyday pace.
What is PCOS
Polycystic ovary syndrome is associated with irregular menstruation, problems with pregnancy, appearance of excessive haireness in places that are not intended for it. Futhermore, its premises may also be the problems with maintaining a healthy body weight, glucose intolerance, chronic fatigue, drowsiness, irritability. Polycystic ovary syndrome (PCOS) affects an increasing number of women of all ages, all over the world. Although this disease has not been fully diagnosed so far - dietary supplements turned out to be a huge help and support in the fight against it.
They are the relief, nutrition and a source of energy, which not only stabilizes and improves processes and changes taking place inside the body, but also complements the deficiencies, protects internal organs, especially reproductive organs, in the case of women. Research and practice prove that PCOS can be asymptomatic, without complicated hormone therapy, when adequate supplementation, good nutrition and physical activity are used.
How to deal with PCOS?
Vitamin D3 supplementation in PCOS
In case of women suffering from polycystic ovary syndrome, it is very important to control your body conscientiously every day, in terms of the presence of necessary nutrients. You cannot let yourself make uncontrollable movements and run out of care for your own body. Every woman who has been diagnosed with PCOS should control the level of vitamin D, especially during transitional periods, such as the autumn-winter period. In this case Vitamin D is able to restore natural and regular menstrual cycles, therefore its supplementation is particularly important.
Omega 3 fatty acids supplementation in PCOS
The substances belonging to the group of Omega-3 fatty acids such as EPA and DHA, as well as inositol, are also worth supplementing. Inositol belongs to the component group of lecithin, which in turn takes an active part in the development of lipid metabolism of the body, and also enables efficient and productive functioning of the nervous system, has an impact on the developmental management of copper and zinc in the body and improves mood.
NAC supplementation in PCOS
Another substance present in dietary supplements, which remains very beneficial in the case of PCOS, is N-acetyl-L-cysteine or NAC. NAC is a very strong antioxidant that has a very positive effect on the hormonal and intestinal and insulin management of the body. Moreover, this substance lowers the level of cholesterol, restores the natural menstrual cycle, and supports the process of weight reduction.
Additional supplementation in PCOS
In addition, minerals such as: selenium, zinc, iron, magnesium, potassium, calcium and chlorine should be supplemented in PCOS, as well as B vitamins, vitamin C, A and E.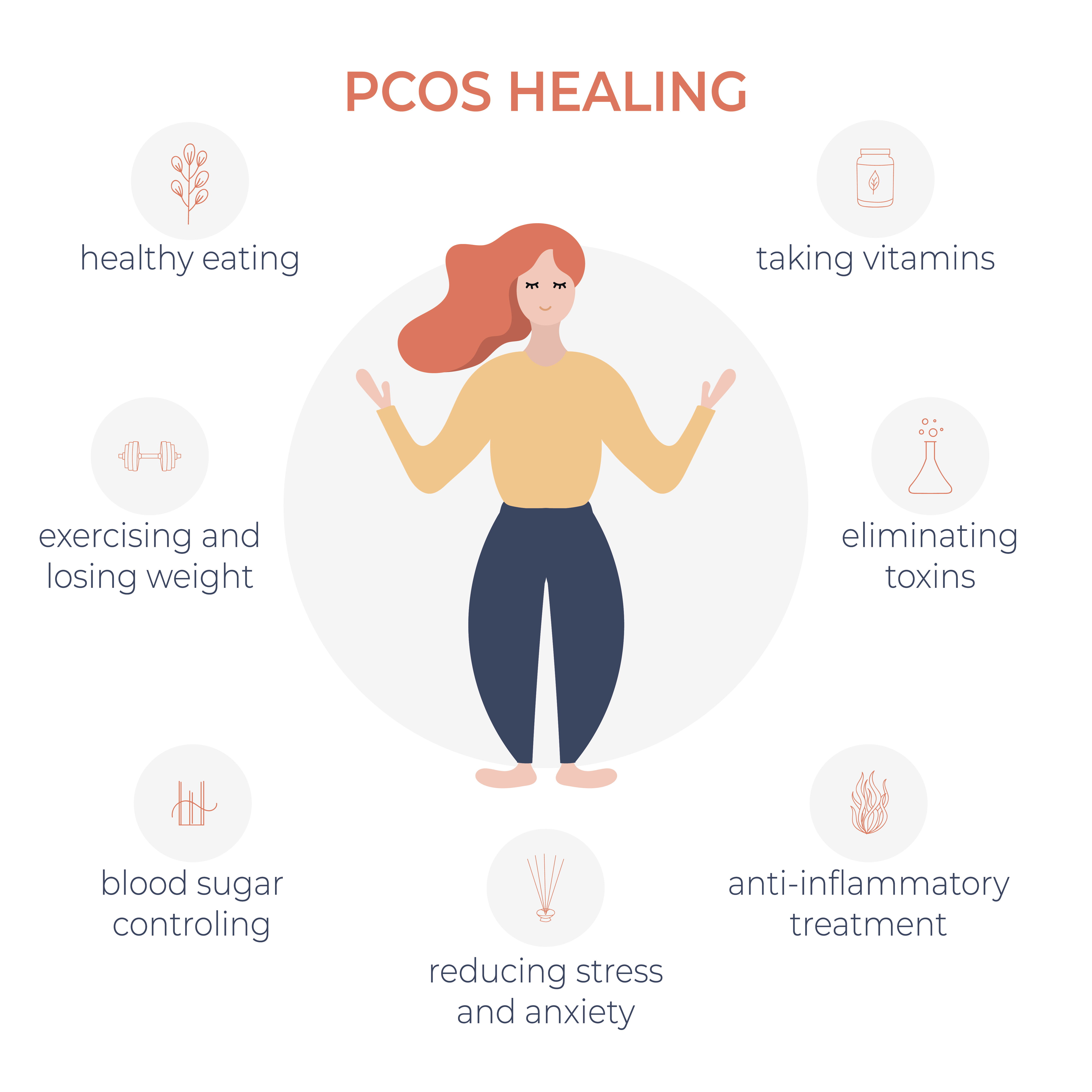 Diet and PCOS
When it comes to nutrition, it should be as natural as possible, free from artificial substances, dyes and preservatives, fillers and also raising agents. You should get rid of fast-food and deep-fried dishes, and instead of them put on homemade, hand-made, vegetable and fruit snacks. It is worth focusing on local products, collected from local providers. Very often we do not pay attention to the fact that so much pollution in the body comes from food, which we do not take care of. It turns out that the modern world offers us a multitude of recipes that are healthy, but also equally delicious and are much more nutritious alternatives to unhealthy dishes.
Hydratation and PCOS
It is also important to have adequate hydration, because it is water that creates us, it is present in every tissue, muscle, in the skin, in the bloodstream. Dietary supplements are able to provide us with comfort and peace, as well as health. The more energy we gain, the more vigor we take in the process of supplementation, the more productively we will be able to fight against the ailments that we often have no influence on. If the polycystic ovary syndrome is not protected by any supplementation, it has destructive effects not only on the physical state, but also on the psyche. That is why it is very important, especially for women who think about motherhood, to be aware of their own body, their own physicality.
Tags: pcos, Polycystic ovary syndrome, supplement, supplementation