Tasty, shapely, ripe tomatoes from the bush are a wonderful feast for our palate. On a summer sunny day we can enjoy them in the garden. There are many ways to prepare them and they help us lose weight! You can lose as much as 2 kg in a week! Let's reach for the tomato!
Where did the tomato come from?
Tomatoes originate from South America. Originally, it was cultivated in Mexico by the Aztecs, and it is from them that the name tomatoe comes from. From Italian pomodori, literally speaking golden apples, the French called them the apples of love because they were attributed with aphrodisiac properties.
In the beginning, the tasty tomato fruit was considered poisonous and inedible. Europeans decided to break this myth and taste a red, fresh tomato and then get down to farming. Despite its basic use as a vegetable, the tomato belongs to the Solanacea family of fruits. It is related to potato, pepper and aubergine.
Almost all of us love tomatoes for their delicious, unique taste, wonderful red colour and fleshy texture. Eating tomatoes at least twice a day will make us feel lighter and more relaxed because we will lose weight. Within a week we will lose between 1.5 and 2 kilograms by eating tomatoes. The daily dose is 1000 kcal. Is it not worth eating them more often, since they are an integral part of our food anyway?
The tomato diet is suitable for anyone who likes tomatoes, and is especially recommended for obese people who want to lose weight. It is contraindicated by pregnancy, breastfeeding and kidney disease.
Pros from tomato consumption
They contain a lot of potassium, which removes excess water from the body,
They have fibre, which removes fat from the body in a short time, gives a feeling of satiety, rebuilds the intestines and shows prophylactic effects,
They contain vitamin C, which has a regenerating effect on the skin, hair and nails and additionally oxygenates the blood,
They contain Vitamins A and E, which protect the skin against aging and the appearance of wrinkles,
They have few calories (1 tomato about 80 g has only 19 kcal),
They contain folic acid which adds energy and improves the mood,
They have lycopene, which prevents heart disease, oxidation of the so-called bad cholesterol - LDL inhibits the development of atherosclerosis, additionally catches free radicals and moisturizes the skin.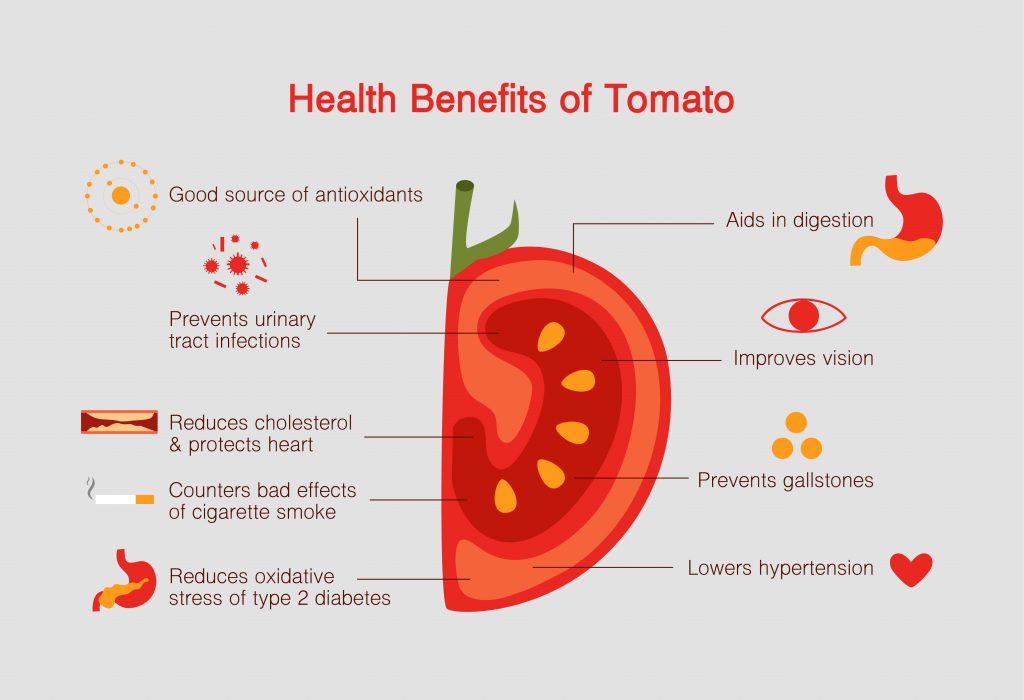 In addition to their food properties, tomatoes can be used in cosmetics:
As mask to alleviate acne changes,
To remove discolouration on the skin.
Malic and citric acid contained in tomato is a wonderful peeling for skin. Our skin becomes smooth as velvet, perfectly moisturised and brightened. The peeling removes dead epidermis and stimulates the reconstruction of collagen and elastin contained in the skin. When dealing with oily and acne-prone skin, you should wipe your face with a slice of tomato to cleanse your skin.
If we do not currently have tomatoes at home, there is another option! Almost every pharmacy has products that contain tomato creams, masks and bath salts. You can not only eat healthy, but also take care of the fresh look of your skin.
Rules for a 5-day diet
Day I
- Breakfast
graham piece red egg paste with basil cereal coffee = 260 kcal
- II Breakfast
glass of kiwi kefir = 140 kcal
- Lunch
veal tea without sugar = 330 kcal
- Afternoon tea
180 g blueberries = 100 kcal
- Dinner
casserole with tomatoes = 330 kcal
Day II
- Breakfast
scrambled eggs with with tomatoes 2 slices of crispy bread with yoghurt or buttermilk = 300 kcal
- II Breakfast
slice of wholemeal bread, tomato cottage cheese sugar-free tea = 250 kcal
- Lunch
salmon with tomatoes and lettuce, green tea = 370 kcal
- Afternoon tea
Kiwi, banana, mineral water = 95 kcal
- Dinner
cream soup with pepper, tomatoes = 220 kcal
Day III
- Breakfast
2 slices of wholemeal bread, scrambled eggs with tomatoes, sugar-free tea = 279 kcal
- II Breakfast
150 g of berries, yoghurt, mineral water = 140 kcal
- Lunch
Tomato, spaghetti with tuna, mineral water = 330 kcal
- Afternoon tea
Tangerine, apple, tea without sugar = 100 kcal
- Dinner
tomato salad, mineral water = 110 kcal
Day IV
- Breakfast
2 slices of crispy bread, Country cheese light with tomato, Tea without sugar = 260 kcal
- II Breakfast
150 g of natural yoghurt = 100 kcal
- Lunch
30g brown rice, fish in tomato sauce, fresh cabbage salad, mineral water = 320 kcal
- Afternoon tea
1.5 glasses of tomato juice = 65 kcal
- Dinner
fruit raspberry tea, salad = 210 kcal
Day V
- Breakfast
2 slices of wholemeal bread, lettuce leaves, 4 slices of tomato, ham = 270 kcal
- II Breakfast
150g of strawberries, mineral water = 140 kcal
- Lunch
Tomato, steak, mineral water = 335 kcal
- Afternoon tea
tomato salad with cottage cheese, tea with lemon= 180 kcal
- Dinner
tomatoes with stuffing, mineral water = 249 kcal
Tags: ketchup, lycopene, tomatini, tomato, tomatoes