The heat pouring from the sky, the ubiquitous heat, shortness of breath that makes you sleepy, and the constant feeling of thirst are the picture of summer in its most hostile version. Temperatures exceeding 30 degrees Celsius can be dangerous for people with reduced resistance to such unusual atmospheric conditions (especially children and the elderly). The basis for dealing with these moments is a properly hydrated organism. Here are tasty drinks that will make it more sunny afternoons more pleasant.
Drinks for the summer heat - water first!
Water should be the primary source of fluids in our diet because it accounts for about 70% of our organism volume. Proper hydration of the body ensures the proper functioning of the circulatory system - it can supply oxygen to each cell effectively, flush out toxins out of our body. So in summer, especially during hot weather, reach for mineral water, preferably with a slice of lemon or cucumber. It will most effectively quench your thirst, not cause weight gain and provide the necessary minerals.
Summer drinks with mint – fresh refreshment
Summer drinks with mint will offer refreshment, which is so necessary for the hot weather. However, do not be tempted by lemonades sweetened with sugar - they will cause even greater thirst. Bet on mint water, mint tea served with ice and yoghurt-based drinks that also blend in well with this herb.
Vegetable and fruit juices - perfect for the summer
It's best to make them yourself. If you decide on these ready juices, bet on cold-pressed juices, which have a short shelf life, but provide the highest dose of vitamins and minerals. The optimal solution for nourishing an organism that does not feel appetite in hot weather is the preparation of vegetable and fruit juice (beetroot, parsley, carrot, celery, spinach, seasonal fruit, lemon or bananas are great choices for the base of it). The number of compositions is practically unlimited - let your imagination and taste buds tell you the perfect composition. Such a mixture can have a very refreshing taste and in addition, will be able to replace an actual meal in a healthy way.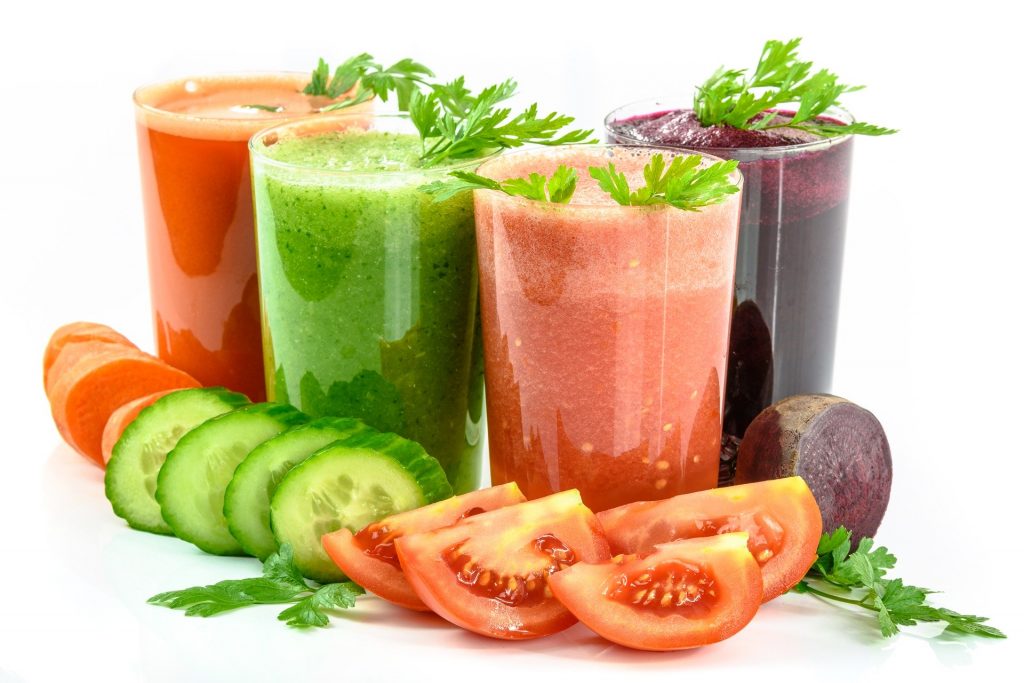 Yoghurt and company - recipes for summer drinks
Try refreshing drinks based on yoghurt or kefir. They can be combined with vegetables and fruits, diluted with juices or rose water, enriched with a portion of granulated fibre (it will ensure good digestion of whole drink). Served salty or sweet, they are a great compliment to a meal or an independent snack. Delight your loved ones with taste by creating original combinations. If you bet on natural yoghurt or kefir, you are guaranteed that the drink will be low-calorie and provide a significant portion of calcium.
Summer ice tea drinks
Generally, available ice tea drinks are usually heavily sweetened and flavoured - they do not quench thirst and can cause weight gain. Self-made ice tea, enriched with pieces of fruit, lemon juice or leaves of your favourite herbs, served very chilled, quenches thirst and will allow you to enjoy a variety of flavours. Do not sweeten it with sugar, you can eventually add a small teaspoon of honey to the jug.
Drinks for the summer heat - which are better to avoid
Summer heat is not particularly conducive to alcohol consumption (moreover, no one caring for the health and good figure should not reach for it regularly).
Beer, one of the favourites of summer barbecues and feasting in restaurant gardens, quenches thirst and improves kidney function, however, it provides a very large amount of calories and quickly raises glucose levels. Drinking one small beer from time to time is nothing wrong, however, in hot weather, it is better to avoid alcohol at all.
The bane of dietitians - carbonated sweetened drinks. They bring refreshment while drinking, but after a while, they generate even greater thirst, due to high sugar content. They cause gastric problems, are very caloric, promote tooth decay and obesity, are full of preservatives, dyes and flavours of artificial origin. Avoid them at all cost if you care about health and beauty.
Tags: coffee, drink for heat, summer drink, summer drinks, tea, what to drink during heat