Recently, berberine becomes an increasingly popular supplement. It is presented as a wonderful remedy, helpful both for people with and without glucose-insulin management - "preventively". In addition, a whole range of other advantages of this substance are mentioned.
Are such beliefs right?
Berberine is a compound extracted from various plants used in traditional Chinese medicine. It owes its popularity to the effective lowering of blood glucose and improving other parameters related to the risk of civilization diseases. Indeed, in the case of people with type 2 diabetes, it seems to be applicable [1]. Due to the activation of AMPK, berberine is normoglycemic - this means that it lowers blood sugar only when it is elevated. Its use is comparable with oral hypoglycaemic agents (eg metformin) - this suggests that berberine is one of the more effective supplements that lower blood glucose [1]. It is worth noting, however, that metformin and berberine may potentially interact with each other and thus limit the effect of metformin. More evidence is needed to investigate the clinical effects of this interaction [2].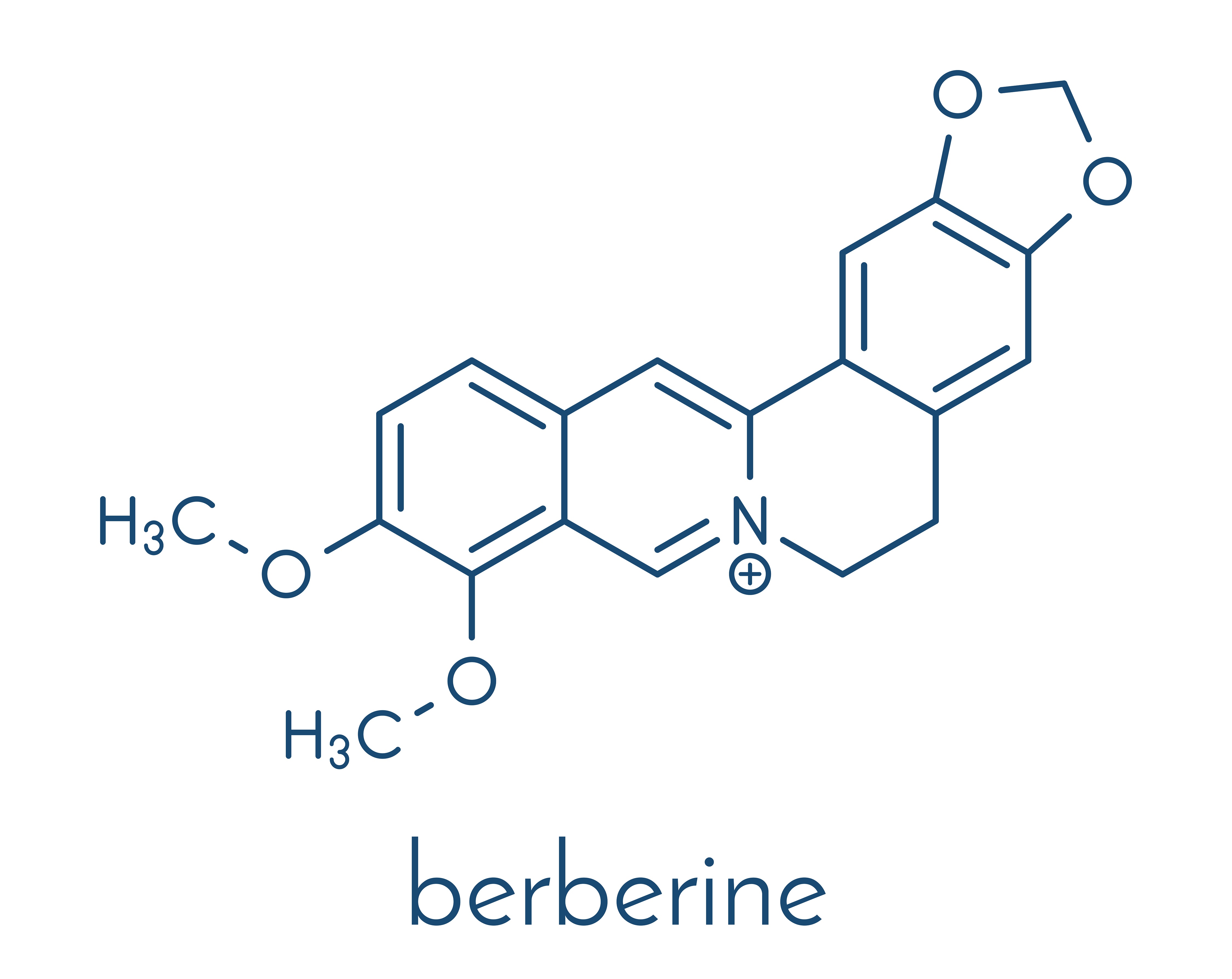 There is also speculation about other mechanisms by which this compound acts on glucose and insulin metabolism. It is mentioned, among others on the improvement of insulin sensitivity and increased glucose transporter GLUT1 [3,4]. The presented relationships were checked in interventional studies and there are single works involving humans, where, for example, an improvement in insulin sensitivity was observed [4-6]. The hypothesis that berberine acts independently of AMPK must undergo further verification.
Is berberine for everyone?
In the experiments carried out so far, the improvement of carbohydrate metabolism concerned persons with type 2 diabetes. To date, no studies have been carried out in which healthy people would be involved or other conditions, such as insulin resistance, would be involved. Meanwhile, according to common beliefs, it is insulin resistance that is mentioned as the main indication for taking berberine. In the light of available literature, such claims are hardly to be considered as facts - they are rather speculative. In the case of patients with normal glucose and insulin metabolism, consumption of berberine may be potentially dangerous and lead to hypoglycaemia. Its use seems particularly useless for athletes reducing fat deposits. The training itself is a great AMPK activator. What's more, the most important factors affecting insulin sensitivity are physical activity and low body fat. The addition of AMPK activator may also be unfavorable in the context of building muscle mass.
Improving not only the carbohydrate metabolism ...
Another benefit of using berberine is the improvement of the lipidogram. The main mechanism of this effect is the activation of AMPK, which inhibits both the synthesis of cholesterol and triglycerides [7]. Administering patients with hypercholesterolemia for 3 months reduced serum cholesterol by 29% and triglycerides by 35% [8]. It also seems to have a beneficial effect on lipid parameters in diabetics, but the effect was not as spectacular [1].
Berberine is also presented as a neuroprotective, antidepressant, antineoplastic and antibacterial agent. Indeed, there are works showing these activities [among others, 9-12]. Unfortunately, they were all carried out in vitro or on rodents. It would be great if this relationship had such a wide spectrum of properties, but as of today there is no research involving people to consider such claims to be right for us.
Summary
Despite the relatively modest research facilities on the title substance, it has a fairly positive prognosis mainly in people with impaired glucose tolerance. It is worth noting, however, that hurraoptimism associated with the operation of this relationship seems to be exaggerated, because today it is not applicable in many cases. Research on berberine is limited to works on cell lines and animals, and only single ones - involving humans. Unfortunately, there is a lack of hard scientific evidence to draw population conclusions and formulate general recommendations. I do not demonize the title substance, but before the introduction of berberine for supplementation, you should think hard and dose the dose individually.
References:
Dong H. i wsp., Berberine in the treatment of type 2 diabetes mellitus: a systemic review and meta-analysis. Evid Based Complement Alternat Med. 2012;2012:591654.

Kwon M. i wsp., Organic cation transporter-mediated drug-drug interaction potential between berberine and metformin. Arch Pharm Res. 2015;38(5):849-56.

Cok A. i wsp., Berberine acutely activates the glucose transport activity of GLUT1. Biochimie. 2011 Jul;93(7):1187-92.

Yang J. i wsp., Berberine improves insulin sensitivity by inhibiting fat store and adjusting adipokines profile in human preadipocytes and metabolic syndrome patients. Evid Based Complement Alternat Med. 2012;2012:363845.

Pérez-Rubio K. G. i wsp., Effect of berberine administration on metabolic syndrome, insulin sensitivity, and insulin secretion. Metab Syndr Relat Disord. 2013 Oct;11(5):366-9.

Yan H.M. i wsp., Efficacy of Berberine in Patients with Non-Alcoholic Fatty Liver Disease. PLoS One. 2015 Aug 7;10(8):e0134172.

Brusq J.M. i wsp., Inhibition of lipid synthesis through activation of AMP kinase: an additional mechanism for the hypolipidemic effects of berberine. J Lipid Res. 2006 Jun;47(6):1281-8.

Kong W. i wsp., Berberine is a novel cholesterol-lowering drug working through a unique mechanism distinct from statins. Nat Med. 2004 Dec;10(12):1344-51.

Kalalian-Moghaddam H. i wsp., Hippocampal synaptic plasticity restoration and anti-apoptotic effect underlie berberine improvement of learning and memory in streptozotocin-diabetic rats. Eur J Pharmacol. 2013 Jan 5;698(1-3):259-66.

Kulkarni S.K. i wsp., On the mechanism of antidepressant-like action of berberine chloride. Eur J Pharmacol. 2008 Jul 28;589(1-3):163-72

Sun Y. i wsp., A systematic review of the anticancer properties of berberine, a natural product from Chinese herbs. Anticancer Drugs. 2009 Oct;20(9):757-69.

Cernáková M. i wsp., Antimicrobial activity of berberine–a constituent of Mahonia aquifolium. Folia Microbiol (Praha). 2002;47(4):375-8.
Tags: beriberine, insulins, sen, sensitivity, sugar