The Mediterranean diet is the least controversial of all diets, the most balanced and with the most supporters - among doctors, dieticians, as well as people who value a healthy lifestyle and train at the gym. What are its main assumptions? What effects can the Mediterranean diet bring?
What is the Mediterranean diet?
The Mediterranean diet, as the name suggests, is a diet shaped in France, Italy and Spain. It is based on regional products characteristic for this area of ​​Europe. Due to its properties it is also called a natural diet or a diet of 1200 calories. In addition to the recommended products, he places great emphasis on
active, healthy lifestyle
a lot of relaxation
Mediterranean diet principles
The principles of the Mediterranean diet, unlike other fashionable diets, have not been artificially created for the purposes of dietary trends. These come from the history and everyday habits of people living in Mediterranean countries.
What are the main assumptions and principles of the Mediterranean diet?
Consuming a large amount of vegetable products - both vegetables and fruits. They should be eaten in both raw and heat-treated form. In the autumn and winter it is worth reaching for silage.
Eating healthy fats - oil is their best source. It is the health-promoting properties of the oil that have a significant impact on the fact that the Mediterranean diet is so highly recommended by specialists in the field of human nutrition.
If possible, eat a lot of fish and seafood, good quality cheeses and fermented dairy products.
The best is dark bread, containing large amounts of fiber.
Eggs and meat only eat as an addition to dishes. The traditional Mediterranean diet contains small amounts of eggs, poultry and red meat. According to the data contained in the pyramid of the Mediterranean diet, you should reach for 2-4 eggs a week (more if there is no meat in it), 2 servings of poultry a week and a maximum of 1-2 servings of red meat.
Use a large amount of natural spices. Remember especially about fresh herbs,onions, garlic, paprika, caraway, thyme, sage, basil, and oregano.
It's worth reducing salt.
Drink water, remember about lemon and mint. Herbal infusions and diluted wine are also recommended - it reduces the level of bad cholesteroland helps to maintain a good level of good cholesterol.
Forget about sweetened beverages, juices, strong alcohol and sweets.
It is important to consume products with a low glycemic index.
Pay attention to the preparation process. It is best to steam, grill and avoid frying.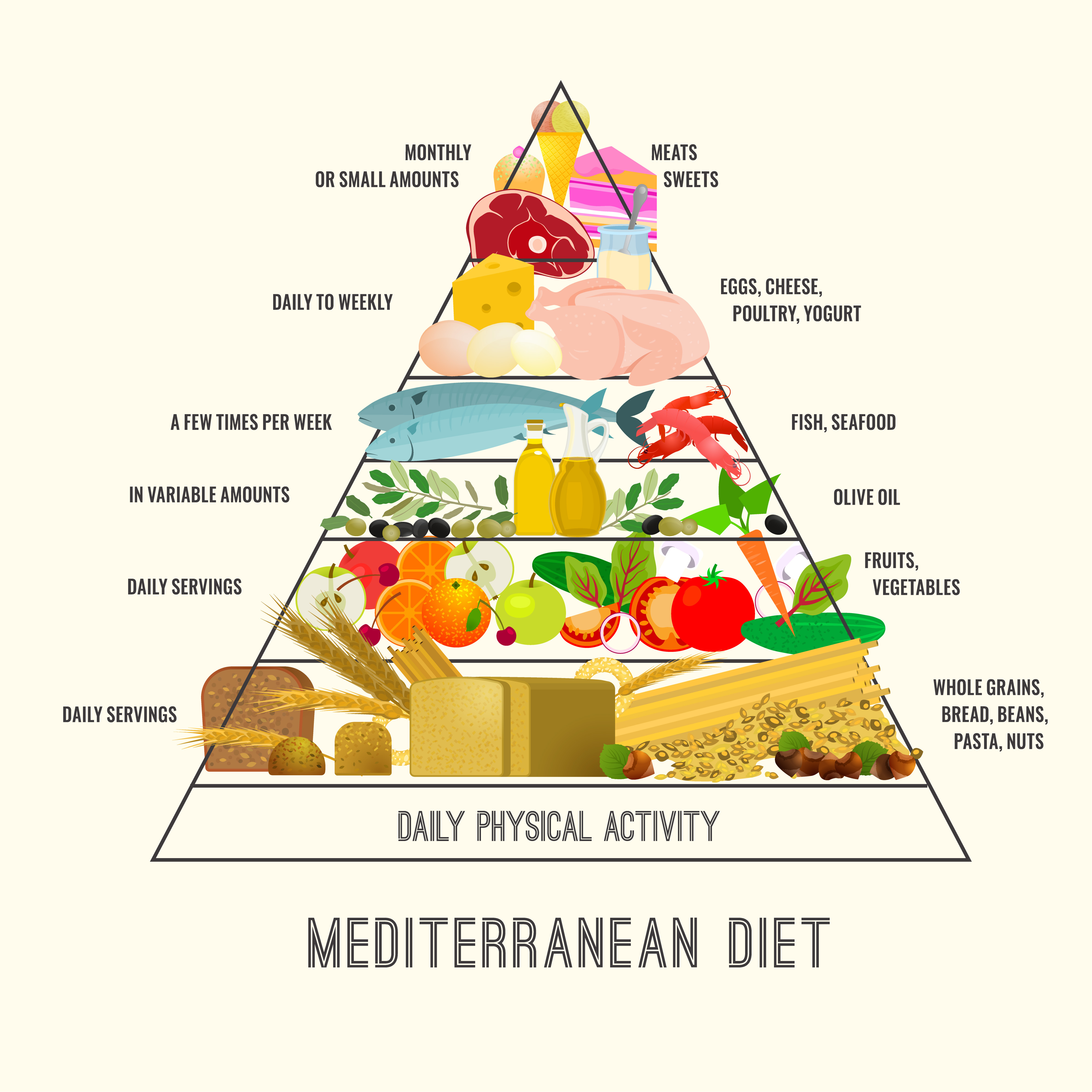 Mediterranean diet - advantages and disadvantages
The Mediterranean diet is such a balanced and optimal diet for everyone that it is difficult to notice defects. Nutritionists pay attention only to possible deficiencies of zinc or folic acid.
However, they are balanced by a number of advantages of the Mediterranean diet:
it delays the aging process because it contains a lot of vitamin E
it counteracts atherosclerosis
reduces cholesterol
protects and strengthens the heart
has antibacterial properties
it is easy to digest
provides a lot of vitamins and minerals, as well as healthy fats
The effects of the Mediterranean diet
The Mediterranean diet as one of the few can be used throughout life. This is a great proposition for reducing body fat - as a slimming diet must have a negative caloric balance.
Not 1,200 calories will be enough for everyone to be healthy and lose weight. Therefore, you can adjust the caloricity to the individual capabilities and requirements of the body.
It is important to consume 5 meals a day regularly. In this way, you can get rid of 2-3 kilos a month properly.
The purpose of this diet is not only to lose weight, but above all to preserve good health, reduce the risk of cardiovascular disease, many cancers, depression, type 2 diabetes, and even Alzheimer's. Nevertheless, if the Mediterranean diet will provide fewer calories than the energy demand, you lose weight in the healthiest way possible.
Mediterranean diet menu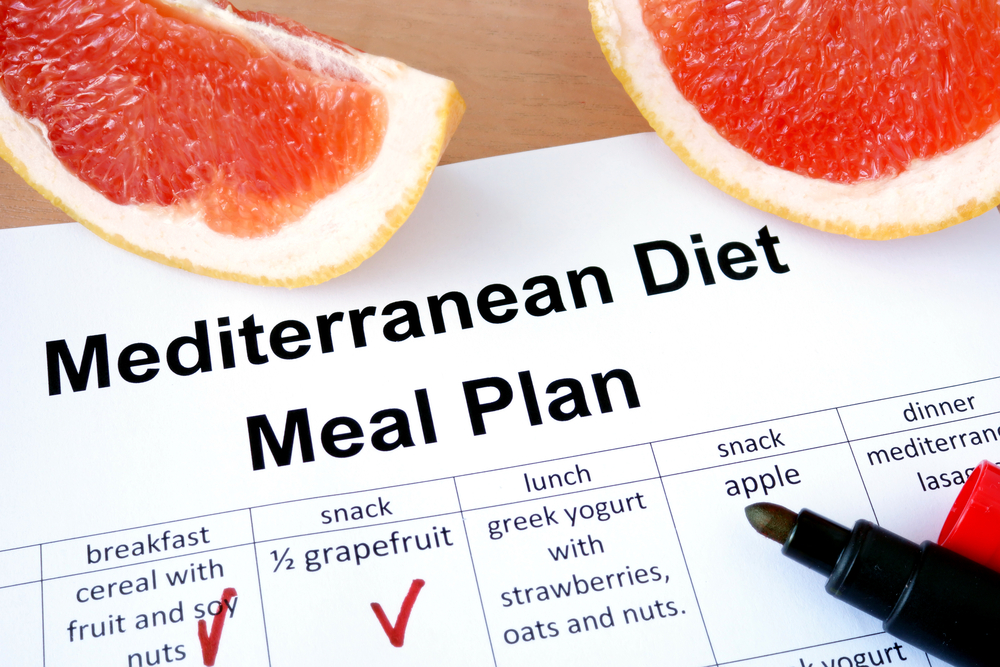 Below is an example menu of the Mediterranean diet.

Breakfast
2 slices of wholemeal bread with sunflower or other seeds spread with green pesto
2 slices of chicken meat
Espresso
Lunch
200g of cottage cheese with the addition of herbs
1 whole grain toast
Dinner
100 g of buckwheat
Pepper stuffed with feta cheese, ground turkey meat, tomato sauce, mushrooms and herbs
A glass of red wine
Tea
A handful of hazelnuts with a teaspoon of honey
A glass of seasonal fruit
Supper
2 slices of crisp, multi-browed bread with diced tomatoes seasoned with garlic, basil, olive oil
A glass of vegetable juice
Tags: diet, mediteraanean, mediteraanean diet