The importance of the gut microbiota in the development of immunity no longer surprises anyone. There are about 70% of immunocompetent cells in our gastrointestinal tract in the form of so-called GALT or, in the simplest language, gut-associated lymphoid tissue. Proper bacterial colonization of the gastrointestinal tract is essential for the proper functioning of the entire immune system.
What makes up the gut microbiota?
Among the gut microbiota, there are species that activate various receptors and cause immune cells to be on alert. It is the gut bacteria that teach our immune system to distinguish cells that are friendly or dangerous for us. The subsequent formation of the gut ecosystem, and thus the proper functioning of the immune system, is specifically influenced by our lifestyle. Chronic stress, constant use of medications such as antibiotics as well as proton pump inhibitors, junk, an imbalanced diet, and even excessive physical activity can lead to disturbances in our gut microbiota and subsequently in the immune system.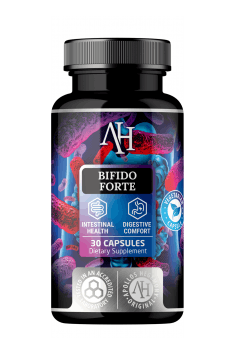 Our body can achieve great efficiency in fighting pathogens through a diverse gut microbiota, and through the process of digestion we acquire, for example, mineral compounds that we know would be inaccessible without bacteria. Without these bacteria, we would not be able to absorb them. Deficiencies of minerals - especially magnesium, zinc, or selenium - can cause, among other things, impaired methylation and excessive accumulation of heavy metals, including mercury, which in turn affects the glutathione availability pool, promoting a Th2-type immune response and weakening Th1 one, or antiviral immunity.
What does our microbiota depend on?
One of the great enemies that we have to deal with on a daily basis is stress, and it is also crucial for immunity. If we were to define stress, it can be described as the body's reaction to events that disrupt the body's balance, strain, or exceed our ability to effectively cope with a potentially difficult situation. In most cases in humans, one of the systems that respond first, though not exclusively, is the digestive system.
We know that evolutionarily stress was needed to help fight off an enemy or kill the game and obtain food that way, however, we are under chronic stress these days and it only weakens our immune system. Such acute stress should only last a few minutes at most, which is when leukocytes are mobilized into the bloodstream, potentially preparing our bodies for possible injury or infection, or so-called fight or flight reaction. Chronic stress, on the other hand, is associated with permanently high levels of lymphocytes, both Th1 and Th2 - which may have various health consequences and may increase the risk of chronic diseases.
Summary
When analyzing what affects our immune system, we should first consider how to take care of it. The best way is always to pay doctor's a visit, who will order basic or advanced tests, and only on the basis of them, we can choose the right supplementation to support our gut microbiota and our immune system.
Tags: gut microbiota, guts, leaky guts, microbiota, probiotics, sibo