Do you constantly suffer from colds? Does persistent cough bother you, especially when you lay in bed trying to sleep? Do you take a ton of antibiotics, and the contents of your drawer looks like the pharmaceutical magazine? According to swedish immunologists, supplementation with vitamin D increases the body's immunity.
It has been long ceased to believe that vitamin D is only good for bones and prevents rickets. There is a growing awareness that vitamin D, despite of its innocent name, is a strong steroid hormone influencing a whole range of processes in the body. Not long ago, some evidence has been produced, that genetically lacking vitamin D is the reason for multiple sclerosis.
Vitamin D for immunity.
In 2012, scientists from Karolinska Institutet, Stockholm, Sweden, published the results of the year-long study (PMID: 23242238). Their aim was to see how supplementation with vitamin D will influence people with frequent respiratory tract infections.
Vitamin D clinical study

Participants in the study: 70 patients of Karolinska University Hospital between the ages of 18-75 (average age: 55 years), with tendencies for respiratory tract infections (infections for at least 42 days out of the year). 52 women, 18 men.
Dose: 4000 IU per day of Vitamin D (Vigantol drops with vitamin D3 by Merck company)
Time frame for taking vitamin D: 12 months.
Starting level 25(OH)D (average): 51,5 nmol/l
In additional control group taking placebo: yes (70 people)
Patients filled out a questionnaire every day, in which they provided 5 parameters: symptoms of the respiratory system, ears, sinuses, or were in a bad mood and if they had to take antibiotics.
Vitamin D - Conversion of units. Dosing of Vitamin D
The levels of vitamin D are provided in different units:
1 ng/ml = 2.5 nmol/l
Taken dose is also administered in different units:
40 IU = 1 mcg
So the starting level 25(OH)D of the participants of this study - expressed in different units - was 20,6 ng/ml and was very low.
Vitamin D for immunity Results of study

Levels of vitamin D3: at the beginning the participants in the supplementation group as well as the control group had a similar level of vitamin D3. After three months, the supplementation difference was almost double: 66,6 nmol/l versus 133,4 nmol/l.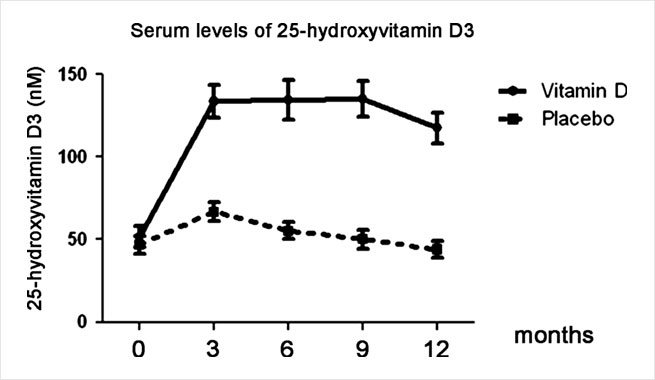 Interestingly, the levels of vitamin D also increased in the control group for the first three months, which takes placebo (maybe the study was taking place around summer time).
Vitamin D supplementation reduces the amount of respiratory tract infection. All out of 5 studied health parameters showed a significant improvement.
The most visible was the impact of the vitamin D supplementation on the need to take antibiotics. Participants from the placebo group had to take antibiotics for 33 days out of the ear, while supplemented participants only had to take them for 16 days. This decreased by half.
The chances that there would be a need for antibiotics in the supplemented group decreased by 63,5%, so it tripled. When the scientists started the experiment, they counted on a 30% total decrease with the 4000 IU daily dose of vitamin D and this was predefined as clinically essential. The supplementation brought lower than the anticipated decrease, as it was 23%, however scientists still think it crucial, because for the patients it translates into more days in the year without infections.
Scientists observed that the effects of supplementation depends on its duration. They suggest, that a long term supplementation (above 6 months) can be necessary to have any impact on our body's immunity. During the study, the longer the supplementation, the better the protection against diseases for patients.
However, when it comes to the side effects of vitamin D supplementation, scientists say that they were more common in the… placebo group.
As it turns out, even placebo can be harmful, and the remedy is vitamin D.
Vitamin D for immunity - study summary

Vitamin D3 supplementation reduces the symptoms and consumption of antibiotics among patients with increased frequency of respiratory infections.
This is why supplementation with vitamin D3 can be an alternative strategy to limit the consumption of antibiotics among patients with recurrent respiratory tract infections.
In 2016, Swedes published the results of another study. 277 patients with deficiencies were supplemented with vitamin D3 in doses between 1500-1600 IU per day for 12 months.
Supplementation with vitamin D3 significantly decreased the consumption of antibiotics from 20 to 15 days per patient. The amount of patients that did not use antibiotics in the first place increased from 52 to 81. The number of antibiotic prescriptions decreased from 1-5 to 0-4.
This effect was caused by the relatively small increase of vitamin D in the blood (the median rose from 21.6 ng/ml to 34.4 ng/ml)
Scientists conclude about Vitamin D for immunity:
We showed that the vitamin D3 supplementation of doses 1500-1600 IU per day for a year resulted in a decrease of antibiotic usage. The decrease of antibiotic consumption was almost solely the result of decreasing the use of antibiotics to treat respiratory tract infections. Vitamin D3 supplementation also gave better chances to stay free from antibiotics for a year after supplementation.
Sources

Bergman P, Norlin A-C, Hansen S, et al. Vitamin D3 supplementation in patients with frequent respiratory tract infections: a randomised and double-blind intervention study. BMJ Open. 2012;2(6):e001663. doi:10.1136/bmjopen-2012-001663

Norlin AC, Hansen S, Wahren-Borgström E, Granert C, Björkhem-Bergman L, et al. (2016) Vitamin D3 Supplementation and Antibiotic Consumption – Results from a Prospective, Observational Study at an Immune-Deficiency Unit in Sweden. PLoS ONE 11(9): e0163451. doi: 10.1371/journal.pone.0163451

Tags: antibiotics, dietary supplements, health, health product, supplements, vitamin, vitamin d, vitamin d and immunity, vitamin d for immunity, vitamin d3