Zinc is one of the most important minerals in our diet. There is no doubt about it. Its adequate supply in our diet determines, among other things, the optimal response of the immune system, the proper condition of the skin, balanced blood glucose levels, and - which will be particularly important for men - an increase in testosterone levels. However, sometimes it is difficult to verify whether the intake of zinc from the dietary sources is sufficient. Then, to avoid zinc deficiency, it is worthwhile to introduce a correct supplementation. For example, the optimal product for zinc supplementation may be the new product from Apollo's Hegemony - Zinc Bisglycinate. Why you should choose this product, and more importantly when to start using it?
Health benefits of zinc
Let's start with the basics - why actually supplement zinc? The primary purpose of zinc supplementation is usually to support immunity. And indeed, research confirms zinc's effectiveness in reducing the length and severity of colds. Another important effect of zinc supplementation - a key one for men - is its potential to increase testosterone levels, mainly through participation in the process of converting testosterone precursors and participation in the construction of androgen receptors.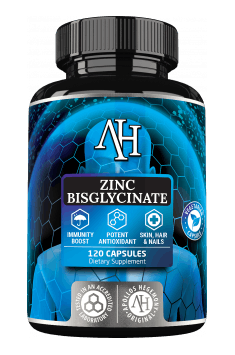 Unusual use of zinc can be found in the context of our skin condition. Zinc ointments are often used to counteract skin ailments, such as atopic dermatisis.
The best form of zinc
In the context of the form of the substance taken, the best form of magnesium is usually discussed. However, it is worth noting that also other minerals have better and worse absorbed forms. The same can be said for zinc, where, on the side of the worse and cheaper forms of zinc, we find primarily zinc oxide, having assimilability at the level of statistical error. On the other side of the absorption spectrum, we find the best-absorbed form of zinc chelate, also called zinc diglycinate or zinc bisglycinate.
Apollo's Hegemony Zinc Bisglycinate
It is also important to note that a supplement is not the same as a supplement. Doubts about the composition of sold supplements appear regularly. It is therefore worth choosing proven and independently tested supplements so that our supplementation will be as effective and efficient as possible.
Apollo's Hegemony Zinc Bisglycinate belongs to a small group of independently tested products. It has been tested like many other products from this company. The results of the study can be found below.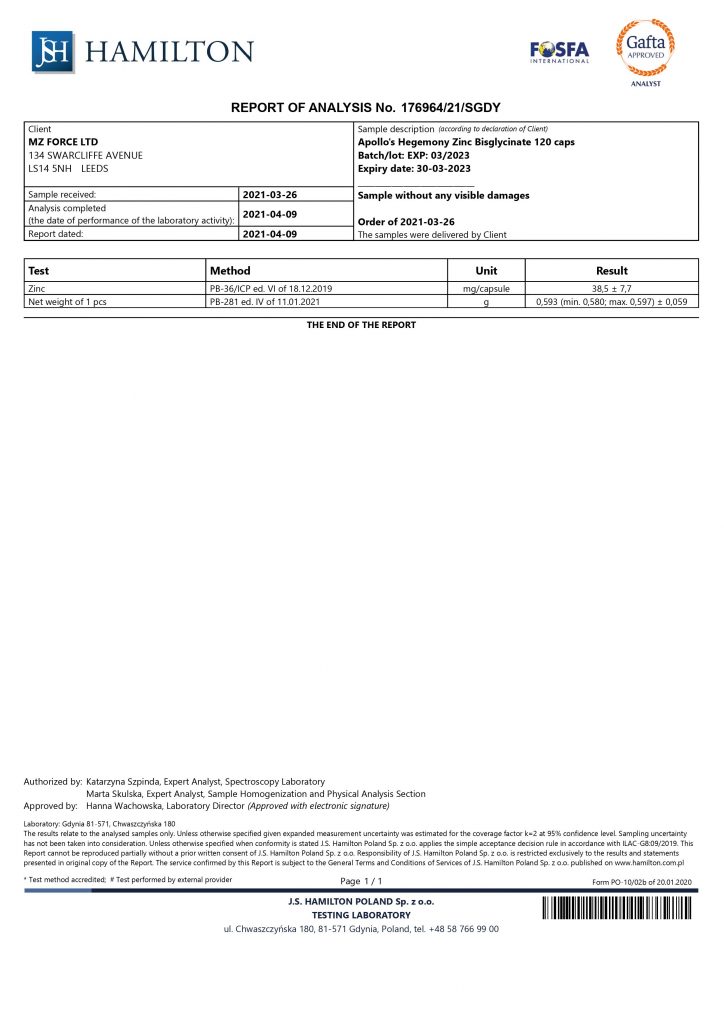 As we can see, the study shows that this is another product from Apollo's Hegemony brand that shows consistent zinc content per capsule and on the nutritional chart.
Summary
Zinc can be one of the most versatile parts of your supplementation, especially if your susceptibility to colds or skin problems leaves much to be desired. It's worth choosing a proven and reviewed product when choosing a supplement - and that's exactly what the new product from Apollo's Hegemony may be - Zinc Bisglycinate, which contains an optimal dose of zinc in the best-absorbed form of zinc glycinate.
Tags: best zinc, best zinc form, supplements review, zinc, zinc bisglycinate, zinc diglycinate