In everyday life, our skin has to struggle with the adverse effects of various external factors such as sun, wind and frost. Lack of proper care often leads to skin problems such as discolouration, acne and dilated pores and dryness. Therefore, in addition to daily protection with cream, lotion or make-up, we should peel the entire body from time to time.
Skin and peeling
Our skin is constantly regenerating, creating new cells. When they perform their function of protecting the skin against dryness and mechanical injuries, they die by creating a stratum corneum. This process takes about 30 days. The horny epidermis clogs our pores and makes it grey and tired. The peeling aims to remove dead cells, smooth the skin and even out its colour. Therefore, we should use it regularly.
Depending on the skin type, we should perform it 1-2 times a week. If your skin is oily, dirty and earthy, you can do this treatment more often.
Types of peelings
On the market, we distinguish many types of peelings from enzymatic, through gels with particles, to thick, coarse-grained ones. Each of them has different functions and serves different types of skin.
Enzymatic peeling
Enzymatic peelings are intended for sensitive, allergic or atopic skin. They are the most delicate form of exfoliation of the epidermis. They contain enzymes which dissolve keratinized epidermis through chemical reactions. They are also recommended for people who are struggling with acne because they do not contain skin-irritating particles. In addition, these grains can spread bacteria on the remaining surface of the skin and exacerbate inflammation.
Peeling with particles
The scrubs with particles, which usually have the consistency of a gel, are suitable for daily use to cleanse the skin and remove the layer of sebum that forms every 12 hours.
Gommage peeling
Another form of exfoliation is gommage peeling. It is usually applied to your face, but if you have delicate skin you can apply it to individual parts of your body. It combines both enzymes and particles. After application, it should be left to cool for 10-15 minutes and then removed with circular movements.
Coarse-grained peeling
The most intensive peeling are those with thick grains. If your skin is oily or with a tendency to oily skin, you can apply this type of peeling to the whole body, but if your skin is dry or sensitive, I recommend applying this product to selected parts of the body, such as feet, elbows, knees.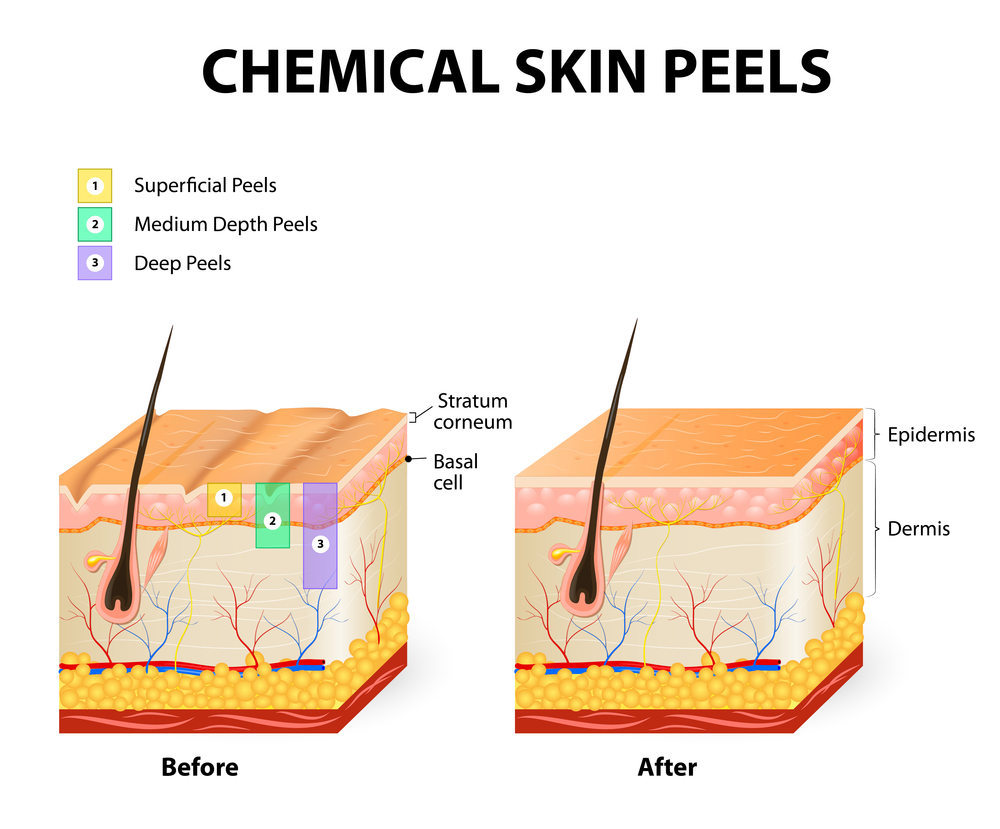 Home-made peeling
If you're not a fan of buying cosmetics, you can always make this peeling from natural ingredients. Here is the recipe
Ingredients
- 1 teaspoonful of salt (preferably sea and coarse-grained salt)
- 2 teaspoons of olive oil or sunflower, sesame or grape seeds oil
- 1 teaspoon of honey (buckwheat, acacia or rapeseed one)
- a few drops of your favourite essential oil (Personally I add mint, which speeds up fat cells metabolism)
Preparation
Pour the oil, honey and essential oil into a bowl, add salt at the very end so that it does not dissolve completely and mix everything thoroughly. Apply small amounts of it on the skin and massage the body in circular motions until it slightly reddens and the skin is smooth. A good idea is to apply this treatment while bathing or showering. Warm water will additionally open the pores, which will make them cleaner. After the end of the peeling, rinse the whole body with lukewarm and even better with icy water, which will close the pores and additionally firm the skin.
You can then apply your favourite lotion and mask to your face. After peeling, the skin is cleansed, so it better absorbs the nutrients and reaches the deeper layers of the skin.
Tags: peeling, skin disorders