This time something for fish lovers, which should also appear in the menu of people on low-carbohydrate and high-fat diets such as LCHF, paleo or ketogenic. Salmon tartare is a great and fast way to snack on a daily basis, but also from the holiday, because it looks beautiful on the table during the ceremony so you can easily put it on the Easter menu. It can be prepared from raw or smoked fish. For me smoked in the company of avocado and kale sprouts, i.e. a very light and spring version.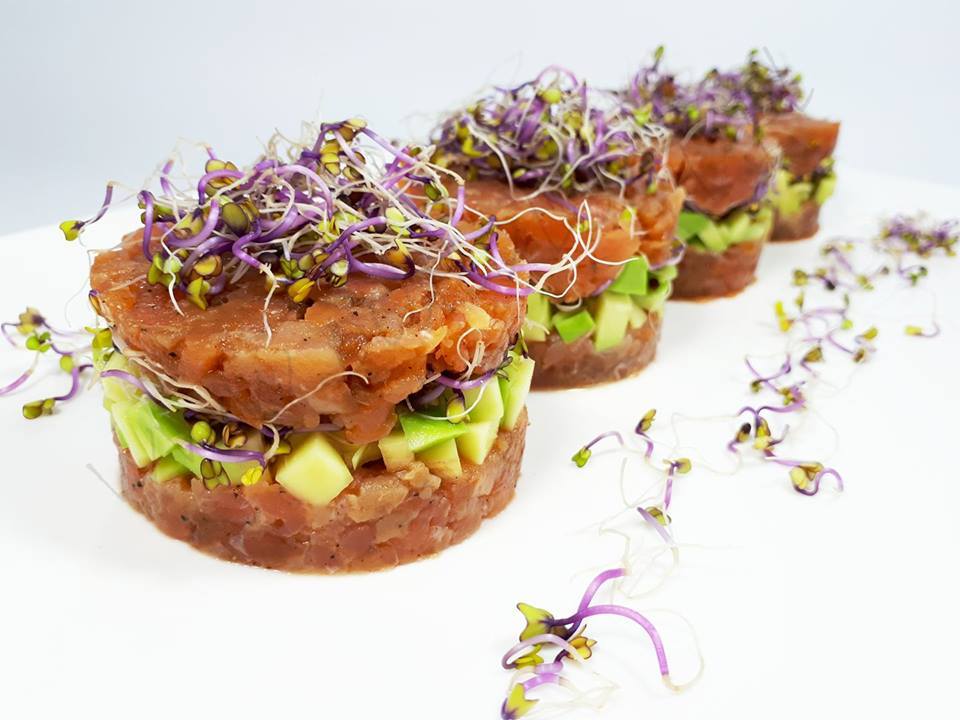 Ingredients for 4 servings:
-400 g smoked salmon
-80 g (4 pieces) of shallots
-300 g (2 large pieces) of ripe avocado
-10 g (2 teaspoons) of olive oil
-30 g (6 teaspoons) of soy sauce or Tamari sauce (without gluten)
-20 g (4 teaspoons) of lemon juice
-optionally sprouts or cress (for me, kale sprouts)
-ground black pepper
-Himalayan salt
Preparation:
Chop the salmon finely and then mix with soy sauce, olive oil, half lemon juice and pepper.
Peel the onions, finely chop, add to the salmon and mix thoroughly or leave the onion to be laid as a layer.
Peel the avocado and cut into small cubes. Then sprinkle the remaining lemon juice and salt it, so it will not darken.
Put salmon to the form and press down.
Add the onion if you arrange it as a separate layer and press down.
Add the avocado and press again.
Sprinkle with freshly ground black pepper and sprouts and press again.
Put the last layer of salmon, press and carefully remove the form.
Put the remaining sprouts on top of the tartare.
Serve with olive oil, soy sauce and lemon wedges.
Bon Appetit!
-
Macros the entire tartare itself: 840 g, 1541 kcal, Proteins 104 g, Fats 111 g, Carbohydrates 43 g.
In 100 g: 183 kcal, Proteins 12 g, Fats 13 g, Carbohydrates 5 g.
1 piece (about 210 g): 385 kcal, Proteins 26 g, Fats 28 g, Carbohydrates 11 g.
The macros can be changed by adding fat on the plate, for example olive oil, keto butter etc.
Tags: beef, diet, keto, ketogenic, ketones, meat, tartare